Thursday December 22, 2011 08:42
Ashley Hebert and J.P. Rosenbaum: The Dream Non-Wedding!
Celebrity News
Unswayed by the recent breakup of Ali Fedotowsky and Roberto Matinez, Ashley Hebert and J.P. Rosenbaum from The Bachelorette are still going strong and supposedly planning their dream wedding … albeit a long way in advance.
This cover makes it seem imminent, though: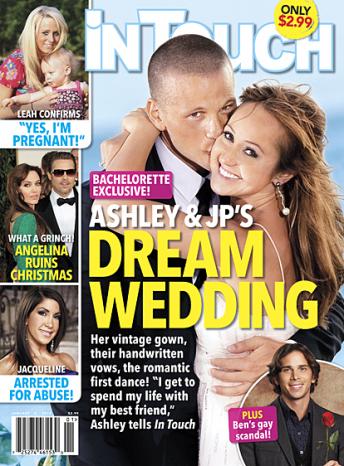 As recently as November 4, Ashley Hebert said she had no wedding date set, and that as happy as she was with J.P., they were taking things (relatively) slowly.
The couple isn't waiting too long, and will "start talking about [weddings] in the New Year," assured J.P., who bested current Bachelor Ben Flajnik last season.
For now, though, they're just enjoying what downtime they have and getting used to living together in New York – which is great, but don't believe the hype.
A couple of vague quotes don't mean nuptials are imminent – that's not even a new pic! – no matter how badly a celeb news weekly wants to sell magazines.
Ashley and J.P.: Will it last?