Wednesday March 7, 2012 12:41
A sex tape featuring wrestling legend Hulk Hogan has surfaced. Yes, really.
It's currently being shopped to a major porn studio, and according to TMZ, it features Hulk getting undressed and a naked, unidentified brunette lying on a bed.
It is not clear when the Hulk Hogan sex tape was filmed, but the woman is not his ex-wife Linda or his current wife, Brooke Hogan doppelganger Jennifer McDaniel.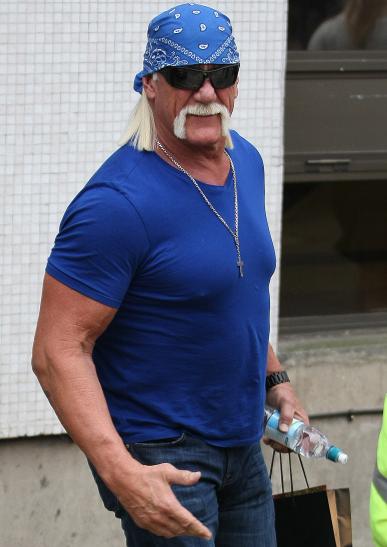 In the clip, Hulk pulls his shirt off and brags to his companion, "I started to work out again." He then runs his hands through his blonde hair like he always does.
Hulk's thong-shaped tan line is on display. In case you were wondering.
Vivid Entertainment boss Steve Hirsch confirms he was approached with the Hulk Hogan sex tape recently by a third party. No word on whether he'll buy it.
In the meantime, cross your fingers that this story goes away.
[Photo: WENN.com]