Saturday December 17, 2011 08:13
Barry Bonds Sentenced to 30 Days House Arrest, Probation For Obstruction of Justice
Celebrity News
Disgraced baseball great Barry Bonds was sentenced to 30 days house arrest and probation today – basically a slap on the wrist for the juiced up home run king.
A federal judge sentenced Bonds to probation and home confinement for obstructing justice during a grand jury probe into a firm that sold steroids to athletes.
U.S. District Judge Susan Illston stayed the sentence until a higher court rules on the appeal of Bonds' conviction, which resulted from the years-long BALCO probe.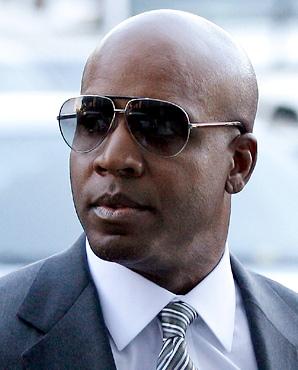 The sentence caps the highest-profile trial in a 10-year PED case that ensnared athletes in several sports and revealed the use of previously undetectable steroids.
A number of athletes admitted using steroids during secret grand jury proceedings in 2003 related to the investigation of a Bay Area steroids manufacturer BALCO.
Federal prosecutors in 2007 charged Bonds with lying to the grand jury. A criminal jury in April convicted him of obstruction of justice for giving evasive answers.
Responding to questions about steroid use with non sequiturs and rambling digressions, Bonds basically dug his own grave there, not that he'll be punished for it.
The jury failed to reach a verdict on three other charges, and prosecutors asked the judge to sentence Bonds to 15 months in prison. Clearly that didn't work out.
After the hearing, Dennis Riordan, a lawyer for Bonds, said he believes the conviction will be thrown out on appeal, which it very well might, knowing this case.
His conviction in the court of public opinion? Another story entirely.