Saturday March 10, 2012 00:54
Hank the Cat: Running For U.S. Senate, Leading Democratic Candidate in Facebook Support
Democrat Tim Kaine and Republican George Allen are currently running a tight and contentious campaign for Virginia's open seat in the U.S. Senate.
They're both political heavyweights, but right on their collective tail is an insurgent, third-party candidate who's surging in grassroots support.
That candidate is Hank the Cat. Bow down, bitches!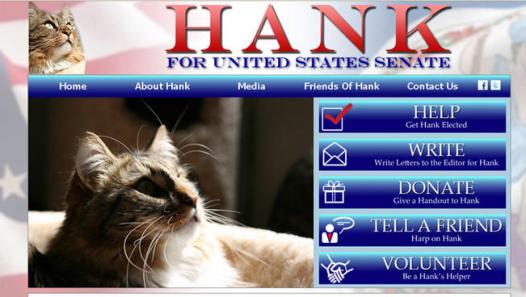 The official site of the Hank Senate campaign claimed in a press release Friday that the 9-year-old Maine Coon (52 in human years) has pulled ahead of Kaine.
In Facebook fans, anyway.
Despite entering the race just two months ago, Hank's Facebook page boasts 14,141 "likes" whereas Kaine, the state's former governor, has 13,913.
Kaine also hasn't converted to Timeline yet, BTW. Way to stay in touch with the people.
Campaign manager Matthew O'Leary said Hank initially ran to expose "the farce that is our political system," until the movement took on a life of its own.
"I do think, however, that Hank can be a serious contender in the race for the Senate seat in November, all comedy aside," O'Leary said earlier today.
"Take note of how many people are willing to support a cat over seasoned veterans. We have no doubts we will also surpass George Allen in good time!"
Allen's Facebook page has more than 43,000 "likes," so Hank has work to do, but a lot can happen between now and November. Count him out at your peril.
No word if Hank's political platform includes tough stances on FDA pet food regulations or illegal immigration of rodents from outside America's borders.