Wednesday February 8, 2012 14:45
Snooki off Jersey Shore is Bisexual!
This should come as no surprise to Jersey Shore fans.
After seeing Snooki and Deena make out and flash straight vagine in Italy, there was little doubt that the former plays for both teams – at least part-time.
She's now classifying herself as bisexual.
Asked directly by the Huffington Post whether or not she's bisexual, she replied: "Yes, I would consider myself bi. I've done stuff with girls before."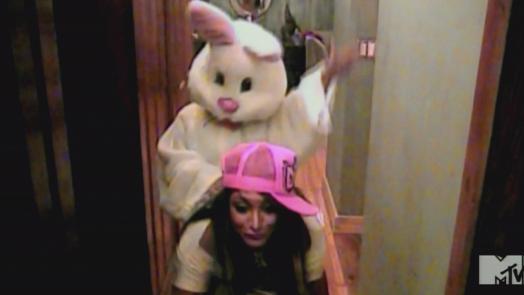 Snooki gives it to Deena doggy/bunny style on Jersey Shore.
Snooki, who's hooked up with more than half of her housemates (male and female), says she wouldn't actually date a woman. Most likely.
"I would never be with a girl because I like… penis. But I've experimented."
We know, trust us. She looks way too comfortable going to town on Deena with that costume on lately. One can only guess what happens off-camera.
Do you consider Snooki bisexual? Or just trashy?