Saturday February 4, 2012 00:49
Miley Cyrus Defends Gay Marriage Beliefs, Tattoo
Miley Cyrus has gone very public with her defense of gay marriage.
In July of last year, the singer got a tattoo (below) on her finger that she posted on Twitter, along with the caption "All LOVE is Equal." She got a lot of flak for the move, criticism she's now responding to via an editorial in Glamor.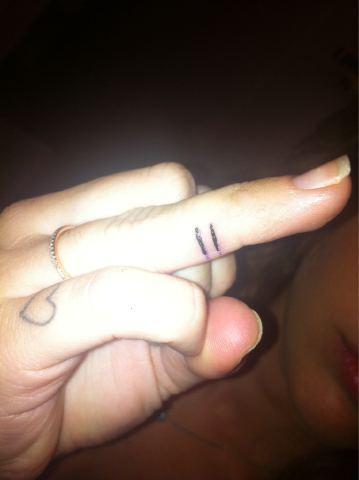 "A lot of people mocked me," Miley writes. "They said, 'What happened to you? You used to be a Christian girl!' And I said, 'Well, if you were a true Christian, you would have your facts straight. Christianity is about love.'"
Cyrus is speaking out now on the topic, she says, due to the "unnecessary threats" leveled at both her and her supporters. She adds:
"I believe every American should be allowed the same rights and civil liberties. Without legalized same-sex marriage, most of the time you cannot share the same health benefits, you are not considered next of kin and you are not granted the same securities as a heterosexual couple. How is this different than having someone sit in the back of the bus because of their skin color?"
It's just not right, Miley concludes of the argument that homosexual couples are somehow held to a different standard than heterosexual couples.
"We all should be tolerant of one another and embrace our differences," she writes.
No doubt Cyrus will fall under fire once again for making her beliefs on this controversial subject well known, which is exactly why we admire her so much for doing so.