Wednesday February 8, 2012 04:44
Iona Spangenberg Defends 20-Inch Waist as "Natural"
Gisele Bunchen is not the only model making news this week, although Iona Spangenberg didn't slam any Patriots wide receivers for having slippery hands.
Instead, the Romanian-born model has simply gone on record regarding her 20-inch waist – yes, 20 inches – claiming she does not live an unhealthy lifestyle.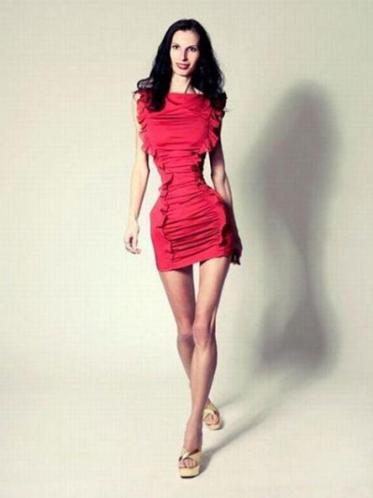 This is not normal.
"No one seems to believe it, but every day I eat three big meals and I snack on chocolate and crisps all the time," Spangenberg, 30, tells The Sun. "I just have a small stomach. It's a bit like having a natural gastric band – if I eat too much, I feel sick."
Spangenberg says she's actually gained weight over the years; when she was a teenager, her waist measured 15 inches.
The mode;'s husband was the first person who saw me as beautiful," she says, and recently posted photos such as the one above online.
"The response was amazing," Spangenberg says, and it's very easy to see why.