Tuesday February 14, 2012 00:41
Bobby Brown, President Obama Release Statements Regarding Bobbi Kristina
With Bobbi Kristina Brown out of the hospital, but with family members still concerned over her well-being, Bobby Brown has released his first public statement regarding his 18-year old daughter with Whitney Houston.
"My daughter did visit with doctors at Cedars-Sinai Medical Center in Los Angeles," said the singer, seen below touching down in Los Angeles to be there for his child.  "She has been released and is presently with my family, including her siblings."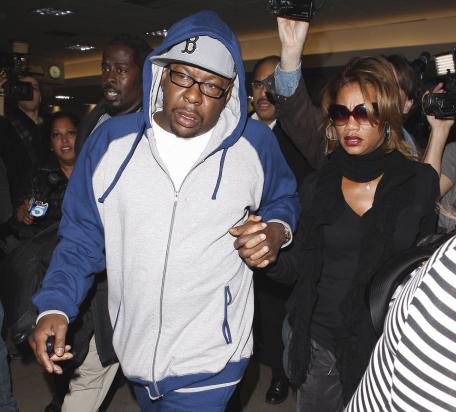 Bobbi was actually under physician supervision twice this weekend, first on Saturday and then on Sunday, both times in panic over her mom's passing.
"Obviously the death of her mother is affecting her," says Brown. "However we will get through this tragedy as a family."
Meanwhile, President Obama has also chimed in on the sad situation. Describing his boss as an "admirer" of Houston's "immense talent," White House Press Secretary Jay Carney said this afternoon:
"I know that his thoughts and prayers are with her family, especially her daughter. It's a tragedy to lose somebody so talented at such a young age."
[Photo: WENN.com]