Sunday February 19, 2012 00:48
Bobby Brown Leaves Whitney Houston Funeral Early, Releases Statement
After days spent arguing with Whitney Houston's family over whether or not he'd attend his ex-wife funeral, multiple sources confirm that Bobby Brown continued arguing with his former in-laws today.
And actually left the memorial after just 20 minutes as a result.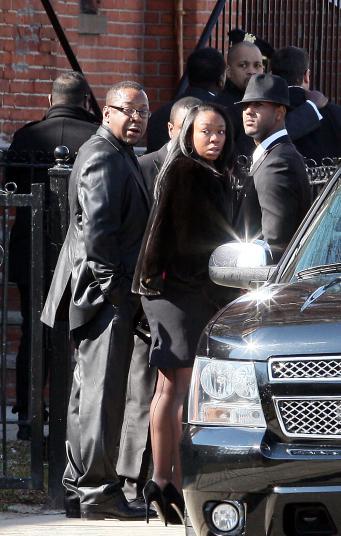 Both E! News and TMZ report that Brown brought an entourage of nine people in to the Newark church. It's unclear exactly what happened from there, but the singer was spotted exiting the house of worship shortly after the service began.
"I am at Whitney's funeral. I spoke with Bobby Brown trying to calm him down and not distract from the services. Today is about Whitney!" Al Sharpton Tweeted, while Access Hollywood's Shaun Robinson says a "seating arrangement" dispute was at play.
Brown also has a concert gig tonight in Connecticut with New Edition, but it's believed this disagreement with Whitney's family is the reason why he left the premises so quickly.
UPDATE: Brown has released the following statement:
"My children and I were invited to the funeral of my ex-wife Whitney Houston. We were seated by security and then subsequently asked to move on three separate occasions. I fail to understand why security treated my family this way and continue to ask us and no one else to move. Security then prevented me from attempting to see my daughter Bobbi-Kristina.
"In light of the events, I gave a kiss to the casket of my ex-wife and departed as I refused to create a scene. My children are completely distraught over the events. This was a day to honor Whitney. I doubt Whitney would have wanted this to occur. I will continue to pay my respects to my ex-wife the best way I know how."
[Photo: WENN.com]