Friday December 23, 2011 08:20
Who Won The X Factor?
Who Won The X Factor?
Celebrity News
It all boiled down to talent (Melanie Amaro) versus heart (Josh Krajcik) versus energy (Chris Rene) on the first-ever American finale of The X Factor, with a major recording contract, $ 5 million and serious bragging rights at stake tonight.
So, who took home the largest grand prize in reality show history?
Following an electrifying set of performances by Justin Bieber, 50 Cent, Leona Lewis, Pitbull and Ne-Yo, host Steve Jones announced the winner as …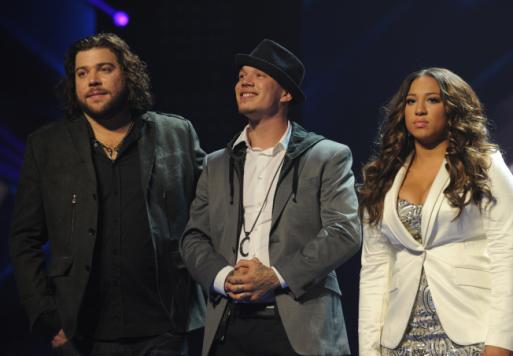 … Melanie Amaro!
Obviously stunned and emotionally overwhelmed just after Jones made the expected announcement, a choked up Amaro said only "GOD IS GOOD!!"
And half a million thank yous.
Simon Cowell said simply, "We came here to find a superstar, and we found a superstar … congratulations and thank you to all who supported this show."
Chris Rene got the chop first, leaving Melanie and Josh Krajcik in the final two. Before the results were unveiled, the two dueted on David Bowie's "Heroes."
The first season finale then closed out with a performance by Melanie. She sang "Listen," a perfect choice as it was arguably her strongest effort all season.
What do you think? Did Melanie Amaro deserve to win?