Monday December 5, 2011 22:17
Angelina Jolie on Nightline: About That Whole Marrying Brad Pitt Thing …
Angelina Jolie on Nightline: About That Whole Marrying Brad Pitt Thing …
Celebrity News
Angelina Jolie is making the media rounds for her directorial debut, In the Land of Blood and Honey, but the mom of six tackles difficult subjects in real life as well as on film.
The actress, 36, and her partner Brad Pitt, 47, are trying to balance their busy careers with raising Maddox, 10, Pax, 8, Zahara, 6, Shiloh, 5 and Knox and Vivienne, 3.
Like us, the brood is getting more curious about their marital status by the year …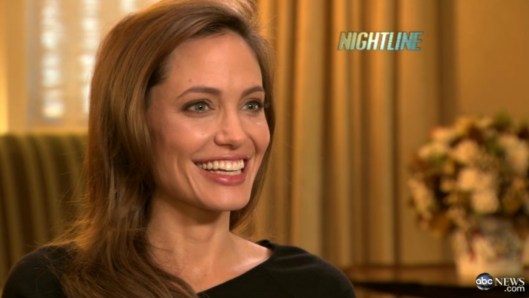 When Nightline asked if she has plans to marry Brad. Her response: "The kids asked me the other day and I asked if it was just because they wanted to have a big cake."
"They see movies that have the people getting married… you know, the happily ever after. Shrek and Fiona are married … We have explained that our commitment when we decided to start a family was the greatest commitment you could possibly have."
"Once you have six children, you're … you're committed."
True, in a sense. The couple has offered a number of different explanations for not tying the knot over the years, and despite celebrity gossip reports every few months suggesting a secret wedding is in the works … none is in the works.
Angelina's full Nightline interview airs tonight at 11:35 p.m.
http://static.thehollywoodgossip.com/images/gallery/angelina-jolie-on-nightline_60x60.png