Friday December 9, 2011 20:14
Rachel Crow on X Factor Elimination: Don't Blame Nicole!
Celebrity News
It was the most emotional scene of The X Factor season: Rachel Crow, 13, falling into sobs as soon after she eliminated from the competition this week… while the crowd booed Nicole Scherzinger for not casting a vote that would have saved the contestant.
After the show, however, Rachel was far more calm than many in the audience.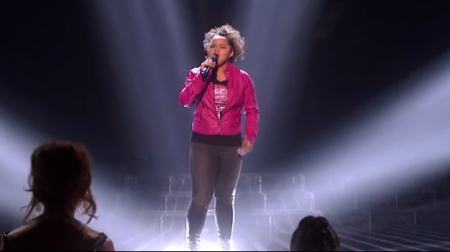 Rachel Crow Sings for Survival
"I am not feeling the greatest, but I will be fine," the singer told the press, adding of Scherzinger: "She told me that she was sorry. I don't know why she said that… I told her it was okay and not her fault."
Considering the hate-filled messages directed at Nicole and Paula Abdul last week, Crow also issued this plea to fans:
"I want to say to all those people, 'Stop, Please.' [Scherzinger] is the nicest person and the most beautiful person inside and out… She is amazing, and I don't understand why people are taking it out on her. It's no one's fault. It's not even America's fault. It's no one person's fault. It's just what God had in store for me. And I will be okay."
Do you think Rachel should have been voted out?