Tuesday January 10, 2012 15:11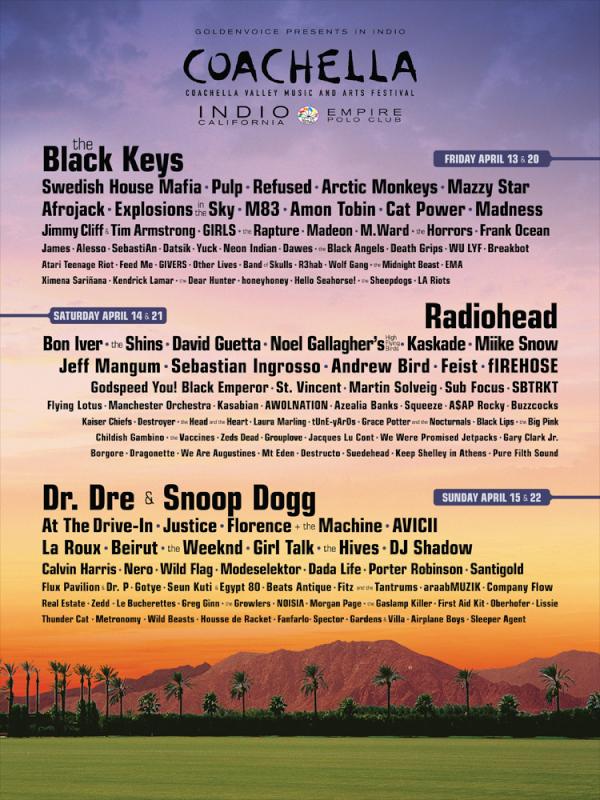 The Coachella 2012 Lineup Has Been Announced!!!!!!
Celebrity News
It's heeeeeeeeeere!!!!!!
The full lineup for BOTH weekends of Coachella 2012 has officially been announced, and there are some seriously fantastic acts performing!!!
On Friday April 13th & 20th, we're pleased to see Frank Ocean and Afrojack ft. Paris Hilton.
As for Saturday April 14th & 21st, we're excited for Feist, Miike Snow, Childish Gambino (Donald Glover from Community), and David Guetta!
And on Sunday April 15th & 22nd, we're pumped for Florence and the Machine, La Roux, Lissie, and Fitz and the Tantrums!!!!
Check out the full Coachella lineup AFTER THE JUMP!
Will U be attending this year? If so, who are U excited to see perform???
Friday, April 13th & 20th
The Black Keys, Swedish House Mafia, Pulp, Refused, Arctic Monkeys, Mazzy Star, Afrojack, Explosions in the Sky, M83, Amon Tobin, Cat Power, Madness, Jimmy Cliff & Tim Armstrong, GIRLS, The Rapture, Madeon, M. Ward, The Horrors, Frank Ocean, Horrors, James Alesso, Sebastien, Yuck, Neon Indian, Dawes, Black Angels, Deathgrips, Wu Lyf, Breakbot, Atari Teenage Riot, Feed Me, Givers, Other Lives, Band of Skulls, R3hab, Wolfgang, Midnight Beast, EMA, Ximena Sarinana, Kendrick Lamar, The Dear Hunter, Honeyhoney, Hello Seahorse!, Sheepdogs, LA Riots
Saturday, April 14th and 21st
Radiohead, Bon Iver, The Shins, David Guetta, Noel Gallagher's High Flying Birds, Kaskade, Miike Snow, Jeff Mangum, Sebastian Ingrosso, Andrew Bird, Feist, Firehose, Godspeed You! Black Emperor, St. Vincent, Martin Solveig, Subfocus, Sbtrkt, Flying Lotus, Manchester Orchestra, Kasabian, AWOL Nation, Azealia Banks, Squeeze, A$ AP Rocky, Buzzcocks, Kaiser Chiefs, Destroyer, The Head and the Heart, Laura Marling, Tuneyards, Grace Potter and the Nocturnals, Black Lips, The Big Pink, Childish Gambino, The Vaccines, Zed's Dead, Grouplove, Jacques Lu Cont, We Were Promised, Jetpacks, Gary Clark Jr., Borgore, Dragonette, We Are Augustines, Mt. Eden, Destructo, Suedehead, Keep Shelley in Athens, Pure Filth Sound
Sunday, April 15th and 22nd
Dr. Dre and Snoop Dogg, At the Drive-In, Justice, Florence and the Machine, AVICII, La Roux, Beirut, The Weeknd, Girl Talk, The Hives, DJ Shadow, Calvin Harris, Nero, Wild Flag, Modeselektor, Dada Life, Porter Robinson, Santigold, Flux Pavilion, Dr. P, Gotye, Seun Keti, Egypt 80, Beats Antique, Fitz and the Tantrums, Araabmuzik, Company Flow, Real Estate, Zed, Le Bucherettes, Greg Ginn, The Growlers, Noisia, Morgan Page, Gaslamp Killer, First Aid Kit, Oberhofer, Lissie, Thundercat, Metronomy, Wild Beasts, Housse de Racket, Fanfarlo, Spector, Gardens & Villa, Airplane Boys, Sleeper Agent