Friday March 9, 2012 14:41
Amid a never-ending firestorm of controversy, Chris Brown was spotted leaving Tru Nightclub in Hollywood last night with girlfriend Karrueche Tran.
They look happy. Guess there's no trouble in paradise … at least not yet.
Karrueche and Rihanna, Chris' ex-girlfriend and recent collaborator, are said to be engaged in a war of words, Facebook messages and Tweets.
In case there's any doubt where his heart is (at least last night):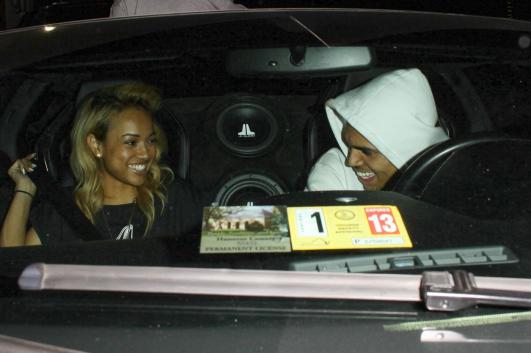 Karrueche reportedly said earlier this week on Facebook, in what was seen as a jab at Rihanna, "I'm Angelina, you're Jennifer. C'mon you see where Brad at."
It's starting to look like the aspiring model is right … and may be morphing into Rihanna, with her newly blonde hair and sharpened fake nails. Just saying.
There's also this random Rihanna topless pic Tweeted yesterday. Which has nothing to do with this story, in all honesty, but still felt worth noting.
[Photo: Pacific Coast News]