Saturday November 9, 2013 20:03
Hilary Swank In Tory Burch – Mariska Hargitay's Hollywood Walk of Fame Unveiling
Hilary Swank was on hand to celebrate her friend Mariska Hargitay's Hollywood Walk of Fame unveiling in Los Angeles, California yesterday.
The actress donned the blush-hued 'Liv' frock from the Tory Burch Fall 2013 collection.
Her dress — which was modified to hit just below the knee — supplied a romantic 1940s vibe that we can aptly attribute to the soft silk-georgette pleats found throughout and the whimsical gold-sequined detailing on the collar and along the shoulders.
To finish, she accessorized with gold glitter pumps and a very casual hairstyle.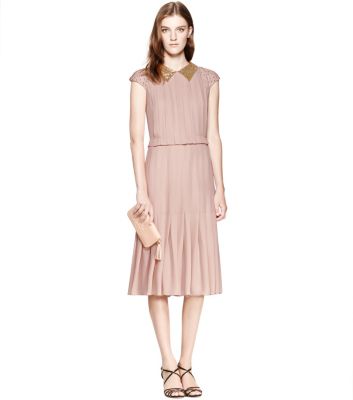 You can buy Hilary's Tory Burch 'Liv' Dress from
Neiman Marcus, Bergdorf Goodman and Tory Burch.