Wednesday February 1, 2012 02:41
Trace Cyrus Speaks on Engagement to Brenda Song, Mum on Pregnancy
The Brenda Song pregnancy mystery remains unsolved. Or, actually, perhaps this interview solves it.
Trace Cyrus spoke to People Magazine this week about his fiancee and their plans to wed, saying he'd love to tie the knot in Vegas, but he knows Song wouldn't exactly go for that plan.
"Every girl wants a big, beautiful wedding," the 22-year old told People. "And at the end of the day, I'll do whatever she wants."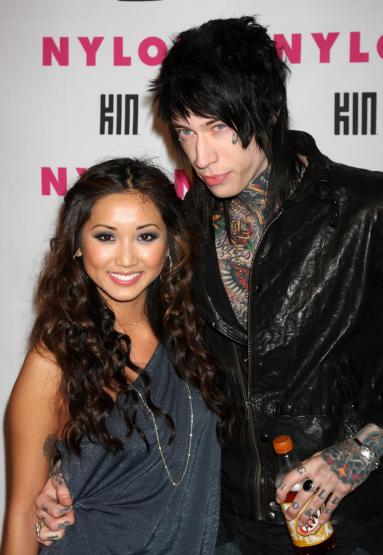 The young couple got engaged in October, amidst rumors that the Disney actress was expecting.
But Song's mother denied this was the case, despite many reports to the contrary… and then Brenda donned a "Love Child" sweater in public. Was she just messing with the press? Sending a not-so-subtle message? Coincidentally donning an old piece of clothing?
Whatever the answer, Trace never touched on any baby talk during his chat with the magazine.
"When I asked her [to marry me], I told her, 'I don't care if we get married tomorrow, two weeks from now, a year from now or 10 years from now; it doesn't matter,'" Cyrus said, adding that wedding bells might not even ring for a year or two.
But he's in no rush. He's simply a content musician.
"It's just been good to enjoy someone else's company and not worry about a million different things. I'm happier than I've ever been."
[Photo: WENN.com]