Tuesday February 21, 2012 22:42
Leah Messer: Jumped By Roving Gang of She-Thugs Outside Movie Theater!
Teen Mom 2 star Leah Messer was brutally attacked by a group of three women outside a West Virginia movie theater this weekend, according to reports.
The 19-year-old mother of twins, who just miscarried in her second pregnancy, is telling friends and family that the incident went down Sunday night.
Leah Messer says she had just left the theater with her new fiance, Jeremy Calvert, when an older woman began following her and calling her names.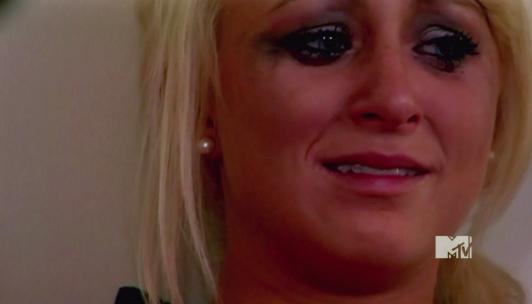 Leah insists she tried to tell the woman to leave her alone when two other girls came out of nowhere and all three began wailing on her hardcore.
Sources say Leah's fiance and a security guard managed to pull the three assailants off the MTV star and got Messer the hell out of the area.
A photo of her face following the brawl shows the poor blonde with a swollen cheek and redness on her neck and chest … this was a serious melee.
Messer apparently did not recognize any of her attackers, but Leah's mother has since gone to Twitter in an effort to try and identify the women.
It's equally unclear why the goons decided to go after her in the first place. Sources say Leah plans to follow up with police later today to file a report.