Monday January 2, 2012 20:30
Adrian Peterson Rings in 2012 With Classic Twitpic
Adrian Peterson Rings in 2012 With Classic Twitpic
Celebrity News
Revelers everywhere celebrated New Year's Eve watching Dick Clark attempt a countdown, listening to music, drinking champagne or, in some cases, kissing Lady Gaga.
Injured Minnesota Vikings running back Adrian Peterson, meanwhile, spent Saturday night in the hospital. That's no fun, but at least he had a sense of humor about it.
The perennial fantasy football stud wrecked his knee in the Vikings' win over Washington on Christmas Eve, ending his season. He had successful knee surgery Friday.
That meant celebrating New Year's in bed, but Peterson was still in a festive mood: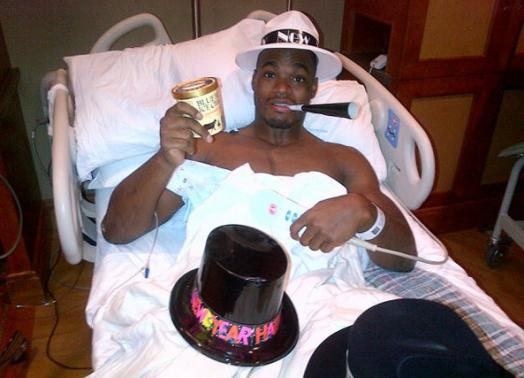 Hopefully the hospital staff let Adrian enjoy that ice cream. Give the guy a break!